W
e are soccer coaches, neighbors, club members, and volunteers. We are nearly 2,000 doctors and nurses, lab techs and pharmacists, receptionists, dietitians, administrators, therapists, and more. We are Kaiser Permanente Hawaii, and our members, their families, and our families are all part of this community.
The way we see it, the health of the community and the health of our members are one and the same.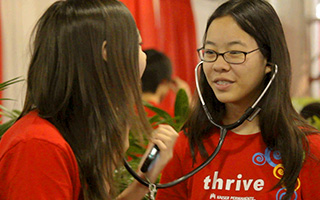 So we give. And we give back.
The year 2017 marks the 33rd anniversary of the Kaiser Permanente Great Aloha Run. Over its lifetime this single event has raised more than $10 million dollars. HPMG has given every penny back to the community through over 150 nonprofit health and human service organizations and other community groups throughout Hawaii.
Anyone who's experienced the run will have seen our medical tents along the course routes. What they may not know is that many of our medical volunteers actually run the race, so if a participant experiences a problem, immediate medical care is literally within reach.
More than ten years after launching the Kaiser Permanente Great Aloha Run, HPMG established Martin Luther King, Jr. Day as an annual day of community service. Since 2005, volunteers from HPMG have dedicated themselves to community service projects statewide, taking "a day on" instead of a day off, to plant gardens, help elementary schools, pitch in at homeless centers, and help restore wetlands, streams, and ancient fishponds.
Whether to assist a member or to serve our community, we believe in behaving with compassion, dedication, and the sincere desire to make a positive difference.
If you're part of the community, you want to be here.