T
he man who revolutionized American health care was called an innovator.
A pioneer.
A revolutionary.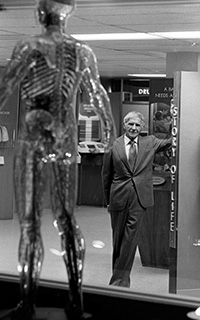 Dr. Sidney Garfield (1970)
He systematized preventive medicine.
Came up with the idea of a prepaid medical system.
And originated the first family medical plan.
He was Dr. Sidney Garfield.
The year was 1933.
His vision took shape in the Mojave Desert, where he opened the Contractor's General Hospital to provide medical care for workers who were building an aqueduct that would bring water to Los Angeles. They were charged 10 cents a day for prepaid care.
This program was so successful that Edgar Kaiser, son of industrialist Henry Kaiser, sought Dr. Garfield out to provide care for his workers at the Grand Coulee Dam project in Washington State. The resulting company that they co-founded would become the country's largest nonprofit HMO.
It was called Kaiser Permanente.
Designed by Dr. Garfield himself, Kaiser Permanente's Ala Moana Medical Center opened in 1958 and served the medical needs of 5,000 Hawaii residents. A year later a clinic opened in Kailua, and a year after that the Pearl City Clinic opened. In 1960 the Hawaii Permanente Medical Group was formed, and the health plan membership in Hawaii swelled nearly 800% to 39,000 people.
Today, Dr. Geoffrey Sewell, HPMG's fourth president, leads the largest and most experienced multi-specialty medical group in the islands. Together with over 600 physicians and 60-plus specialties, he continues the work of our founding visionaries to create an organization of excellence based on teamwork, ohana, compassion, and caring for Hawaii's people like family.
If you know the whole story, you want to be here.