W
e wake up in the morning and get ready for work.
Fight the traffic.
Put on our scrubs.
And get busy.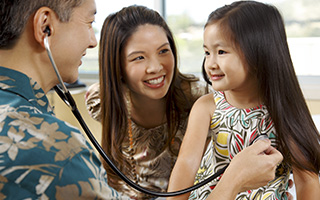 Maybe from the outside it looks a lot like any other job.
It's not.
For each of us here, it's a calling.
A life commitment.
It's the chance to make a difference.
It's raising the money to write a check to a local non-profit.
It's being hip deep in mud on Martin Luther King, Jr. Day when hundreds of us around the state volunteered to clean a kalo patch.
It's doing the kind of work that makes things better.
That's what got us into medicine in the first place.
Our mission is guided by our values of compassion, innovation and excellence in practicing medicine in Hawaii.
It's what we do.
If you want to feel better, you want to be here.