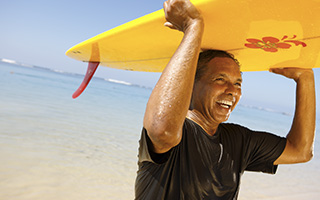 C
ancer can be prevented.
Cancer can be treated.
Cancer can be beaten.
At Hawaii Permanente Medical Group, these are more than just words. It's our passion and commitment to care for our members.
Our system gives each member of our coordinated care teams immediate access to the very latest information about how our members are doing. So everybody on the team – from the primary care physician to the surgeons and other specialists – knows exactly what is happening every step of the way. This ensures seamless, integrated, highly personalized care from diagnosis to surveillance, in the hospital or in the medical office. Our goal is to make our members feel at home.
The team delivering care is the largest multi-specialty group in the state, and we have some of the very best. Every one of the highly trained physicians in our Hematology and Oncology department is board certified, which means they have passed the most rigorous testing and peer-review evaluations in medicine.
What matters most are our members, and their families, and what they have to say.
We have the largest collection of private, electronic medical records in the world to instantly cross-reference hundreds of thousands of cases and compare treatment plans to see what works best.
But the numbers don't tell the whole story. They don't convey the commitment, the compassion, the kind of care members can expect to receive from us. What matters most are our members, and their families, and what they have to say. Which is why it is both gratifying and humbling to know that they have rated us number one in the state.
For compassionate, state-of-the-art cancer care, you want to be here.
CANCER CARE SERVICE LINE
Specialist
Oncologist
Gynecologic oncologist
Hematology oncologist
Pediatric hematology oncologist
General-surgery surgeon
Plastic-surgery surgeon
Services
Inter-disciplinary breast cancer care team
Cancer Navigation Coordinator
Infusion center
Cancer care center

Comfort & relief-related products

Classes

I Can Cope cancer classes

Healing movement

Spiritual care

Freedom from smoking
Clinical Trials
Currently recruiting for over 100 clinical trials
Most clinical trials at Kaiser Permanente are being conducted at university medical schools and other research centers across the U.S.
Members who think they may want to be part of a clinical trial should talk to their doctor about finding the best one for them
Online Support
Cancer care center
Social health networks/communities
Drugs & natural medicine database
Online Programs

Manage pain

Eat healthy
If you need more information about any of the services listed here, please contact us. We are always here to help you.
Oahu
432-8000
Maui
243-6400
W. Hawaii
334-4400
Hilo
934-4000