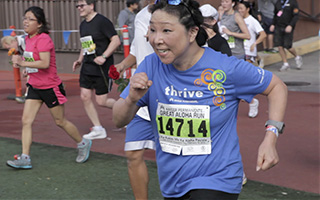 E
very day, your heart beats about 100,000 times, yet that simple, life-sustaining beat goes mostly unnoticed. At Hawaii Permanente Medical Group, our Heart and Vascular Care teams pay the closest kind of attention to our members' heart health.
When the need arises, we rally to address critical needs as well as collaborate for routine testing with an emphasis on minimally-invasive procedures that reduce complications and speed healing. Because our state-of-the-art facilities are equipped with some of the latest technology, our care teams have the means to perform procedures nobody else in Hawaii can.
We have been given Gold Plus recognition by the American Heart Association for commitment to quality for both stroke and heart failure care and are number two in the nation for cholesterol screening in patients with cardiovascular conditions. The standards we have set put us at the forefront of cardiovascular care in Hawaii.
Our teams are not only dedicated to working on the heart, they are dedicated to working with heart.
Part of what allows HPMG to be a leading provider of cardiac care is the depth and breadth of the ongoing research we do. Our physicians in the Cardiac Surgery, Vascular Surgery and Cardiology departments are currently participating in over 15 clinical studies and have published hundreds of peer-reviewed journal articles.
Most important, our teams are not only dedicated to working on the heart, they are dedicated to working with heart. From being the first in Hawaii to offer round-the-clock cardiac service to their patient-first approach, our cardiac team is among the most compassionate you will encounter, anywhere.
For heart care that never misses a beat, you want to be here.
HEART CARE SERVICE LINE
Specialists
Cardiologists

Interventional

Electrophysiology

Pediatric congenital cardiologists

Transplant cardiologist

Cardiac anesthesiologist
Cardiothoracic surgeons
Cardiac Imaging
Vascular surgeons

Post-graduate fellowship program

Coordinated support with primary care physician and specialized staff: APRNs, clinical pharmacists, RNs
Cholesterol & hypertension management
Anticoagulation monitoring

Monitors blood testing schedule and optimizes medication for cardiovascular health

Medication therapy management (e.g., Amiodarone)
Medication management for blood thinning for optimal health safety
Smoking cessation
Dietitians & social workers
Services
Cardiac Device Clinic

Including remote monitoring

Cardiac Catheterization Lab
Pediatric & Adult Congenital Cardiology Clinic
Fetal Cardiology Clinic
Heart Failure Clinic

Proactive outreach to at-risk members

Manage symptoms to prevent hospitalization

STEMI Program < 90-minute, door-to-balloon, 24/7 coverage
Ambulatory cardiac monitoring service
Dedicated primary angioplasty service (PPCI)
Diabetic Limb Treatment Clinic
Palliative care
Vascular disease prevention
Endovascular suite for vascular procedures
Blood vessel symptom repair including veins & arteries
Surgical Intervention (e.g., angioplasty and stenting)
Medical therapy
Proactive surveillance for at-risk patients
Carotid artery disease
Aneurysms
Previous reconstructions
Tests
Electrocardiogram (ECG)
Echocardiogram

Contrast echocardiogram

Stress/dobutamine echocardiogram

Congenital echocardiography

Transesophageal echocardiography

Cardiac stress tests
Tilt table tests
Interventional cardiology
Ambulatory cardiac monitoring
Fetal cardiac ultrasound
Electrophysiology studies (EPS)
Cardiac MRI
Cardiac CT
Certified vascular non-invasive lab (by ICAVL)

Carotid duplex evaluation

Upper & lower extremity arterial evaluation

Upper & lower extremity venous evaluation

Aneurysm screening

Graft surveillance
Classes & Programs
Healthy heart classes
Health & fitness classes
Research
Research in field
Robust university-style clinical trial program

Enrolling participants for more than 10 years

Ten current trials in cardiology and vascular care

Leader in field

Invited faculty to specialty symposiums & lectures

Numerous publications in medical journals

Advisory boards for journals

Author of textbooks
Online Support
Healthy cooking videos
Podcast — healthy heart
Healthy recipes
Social health networks/communities
Fitness Programs

10,000 Steps

Every Body Walks

Health Programs

Total health assessment

Managing chronic conditions

Quit smoking

Reduce stress
If you need more information about any of the services listed here, please contact us. We are always here to help you.
Oahu
432-8000
Maui
243-6400
W. Hawaii
334-4400
Hilo
934-4000