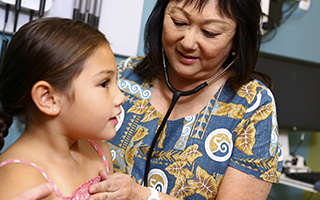 E
verything changes when you have a child.
A baby becomes the center of attention, and at Hawaii Permanente Medical Group, our members' babies become the center of ours.
We start by providing the best possible care even before the child is born. It begins with a comprehensive prenatal program to ensure a healthy mom, a healthy birth, and a healthy baby.
We're honored to have received the World Health Organization's Baby-Friendly Designation – and delighted to be the first and only hospital in Hawaii that has achieved this level of recognition.
We understand that each child is unique, with an equally unique set of needs.
This standard of commitment continues throughout every stage of a child's life, from a comprehensive prenatal program, to scheduling physicals to providing immunizations and offering parenting classes such as "Incredible Years" – which teaches parents how to build positive relationships with their children. At every stage of a child's development, the pediatrician is there, carefully monitoring each step of their growth.
We understand that each child is unique, with an equally unique set of needs. That's why we give parents the ability to choose a pediatrician that best fits those needs, and their own as well. We also make sure they always have the means to get in touch with their pediatrician by providing email access as well as the flexibility and convenience of telephone appointments, in addition to regular check-ups.
Be assured that if a child needs us, we're always here. Our hospital is staffed around the clock with our pediatric staff and in-house newborn team.
For healthier keiki, you want to be here.
KEIKI CARE SERVICE LINE
Well Visits
Pediatricians in all of the medical office buildings
Developmental screening routinely with referral to developmental specialist
Autism screening done routinely
Obesity program
Amazing Food Detective (online games)
Centering
Newborns
Lactation programs
Special Delivery program
Videos

Newborn Care: Baby Basics

Newborn Care: Your Baby's Hearing

Growing up healthy

Illnesses & conditions

Growth & development

Healthy habits

First aid & safety

Caring for teens

Caring for your body

Caring for your mind

Teen health services

Community events

Car safety seat inspections

Asthma fair
Behavior
Adolescent & child psychiatry
Mental and emotional well-being

Emotions & behaviors

Learning differences & disorders

Social health networks
Online programs

Reduce Stress

Overcome Insomnia

Parenting Classes

Incredible Years (only certified instructors in the state)
Specialty Care
Pediatric Cardiology

Fetal echocardiography

Preventive cardiology

Cardiac catheterization

Cardiac MRI

Pediatric Urology
Pediatric Anesthesia
Neonatology
Hospital Medicine

NICU

Endocrinology
Genetics
Affiliate providers

Pediatric GI

Pediatric Neurology

Pediatric ENT

Pediatric Pulmonology

Pediatric Surgery

Pediatric Nephrology
Highest honors for patient-centered care
If you need more information about any of the services listed here, please contact us. We are always here to help you.
Hawaii Kai
432-3700
Honolulu
432-2400
Kahuku
432-3900
Kailua
432-3400
Kapolei, Waipio, Nanaikeola
432-3100
Mapunapuna
432-5770
Pearlridge
432-5849
Maui
243-6400
Kona / S. Kona
334-4400
Waimea
881-4500
Hilo
934-4000