A
woman's life can get complex. Finding the balance between work, home, kids and daily activities can be a juggling act. From puberty to menopause, obstetrics to gynecology and conception to delivery, women typically have a range of health care needs. At Hawaii Permanente Medical Group we know how important this is.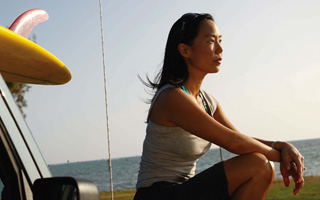 ...we think more broadly. More holistically.
So we think more broadly.
More holistically.
For the best way to care for the varying needs of the women we serve, we built an entire team specifically for them: ob-gyn physicians, subspecialists, certified nurse-midwives, nurse practitioners and registered nurses. This collaborative support system focuses exclusively on maintaining each woman's optimal health and ensuring the best possible experience.
We work proactively and seamlessly with our colleagues across multiple disciplines – whether for referrals and consultations, or classes, education and preventive screenings – to give the most tailored care possible.
Equally critical is the value we place on warmth and aloha – to get everything our members need, and to do that from the heart. What we do is more than a calling. We see it as a privilege to care for the women and families that make up our community.
For the best in women's health care, you want to be here.
WOMEN'S HEALTH SERVICE LINE
Gynecology
Well women exams & pap smears
Adolescent gynecology
Contraception & permanent birth control
General gynecology
Gynecologic surgery
Menopause & perimenopause management
Urogynecology: female prolapse & incontinence
Obstetrics
Centering pregnancy
Prenatal care & child birth
Low- & high-risk pregnancy
Perinatology
Maternal fetal medicine: prenatal diagnosis, high-risk pregnancy & ultrasound
Antenatal testing & monitoring
Fetal intervention
Collaboration with pediatric cardiology for fetal cardiac abnormalities
Preconception care & fertility planning
Kupu Ola – diabetes in pregnancy program
Online pregnancy center

Fertility calculator

Caring for yourself during pregnancy

Preparing for your newborn

Breastfeeding tips

Online videos

Healthy habits during pregnancy for diabetics

Podcasts

Pregnancy & childbirth
Delivery
Special Delivery Program
Birthing Center
Nurse-midwifery: certified nurse-midwives
Lactation program
Centering
Cancer Prevention & Treatment
Breast - mammograms
Cervical - pap smears
Gynecologic oncology: female gynecologic cancer care
Inter-disciplinary teams for breast cancer care
Other Online Services
Women's Health center: health topics related to women
Shopping, cooking, and snacking for busy families
Fitness programs

10,000 Steps

Every Body Walk

Wellness coach
Highest honors for Patient-Centered Care Medical Home from the National Committee for Quality Assurance (NCQA)
Excellent Accreditation status from NCQA
Best Doctors: Dr. Christopher Miura; Dr. Joyce Nakamura; Dr. Eileen Ogasawara-Chun; Dr. Keith Ogasawara (Maternal and Fetal Medicine); Dr. Lisa Grininger (General Surgery – Breast Care)
Dr. Benjamin DeLisa is Chief of Ob-Gyn at Maui Memorial Hospital; Dr. Errol Buntuyan works with Women Helping Women
If you need more information about any of the services listed here, please contact us. We are always here to help you.
Honolulu - 432-2500
Koolau - 432-3800
Waipio - 432-3100
Maui - 243-6400
W. Hawaii - 334-4400
Hilo - 934-4000