O
ur doctors are not only expected to keep up with the latest advances in medicine, they're also expected to instantly know what's going on with each patient. Impossible?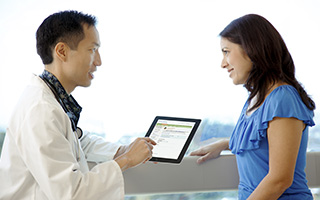 Not with KP HealthConnect®, our integrated health information system – one of the largest, most comprehensive collection of private electronic health records in the world.
Information is immediately accessible to everyone on the care team, and members themselves can access their health records anytime, anywhere – even on their mobile device – via kp.org. In fact, KP HealthConnect® is the first system in Hawaii to electronically integrate clinic, hospital, and business services.
KP HealthConnect® also makes it easy for members to take charge of their own health or the health of a family member, such as a child or aging parent.
Medical information is immediately accessible to every one of our members' care team, and members themselves can access their health records anytime, anywhere.
With KP HealthConnect®, there is less time waiting, less need for interpretation, less room for error. If you're wondering why every care delivery system doesn't work this way, some are starting to – using our system as their model. A model that has been proven to ensure faster, safer, and more efficient care delivery.
Members checking their record online will see that it's constantly updated. In fact, they can get most lab test results at the same time their provider does.
Even when traveling, members can pull up their portable medical record on their phone to share important information with any emergency provider.
In our system, built-in alerts immediately warn doctors if members are allergic to something, or if different medicines shouldn't be taken together. It reminds our doctors when someone is due for a routine test or screening – such as a mammogram or cholesterol check – or for a follow-up visit.
Our doctors can also use the system to consult with a specialist who can pull up records remotely. They see the same medical images or test results, instantly. That means members can get quick, and sometimes even on-the-spot answers to their questions – so there's less worry and fewer visits to the doctor.
If you want to experience health care of the future, you want to be here.